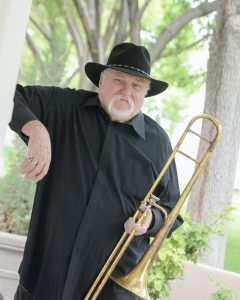 Walt Boenig was born in Woodsboro, TX, but when he was a month old decided to move to Beeville, TX, and luckily his family went with him. He grew up in Beeville, where he began his trombone career at an early age in high school. He then went on to Sam Houston State University (Huntsville, Texas) where he devoted all his studies to music. His career as a professional trombonist included such road bands as: Glenn Miller Orchestra (under four leaders, Buddy DeFranco, Peanuts Hucko, Buddy Morrow, Jimmy Henderson), Harry James Orchestra, Jimmy Dorsey Orchestra (Leader Lee Castle), and a Tom Jones South Africa tour. Since arriving in Las Vegas in the mid '70's he has performed with the house bands at the many hotels on and off the strip including: the Silver Slipper, Desert Inn, "Lido de Paris" at the Stardust, and the musical "Chicago" at Mandalay Bay).
It was 1981 when Walt originated his own big band. The inception of this band brought a freshness, creativity and ingeniousness to Las Vegas. He currently freelances performing for shows, private and public functions (including conventions, weddings and concerts).
In addition to the big band Walt also leads the Walt Boenig Little Big Band (7-8 pieces) and The Dynamic Trombone Quartet offering a variety of music available to all. In 1995, Walt started the Las Vegas All Star High School Jazz Band and was musical director for nine years.
The innovativeness of the Walt Boenig Big Band is showcased in the CD's "A Little of You" (1993 release) and "A Lot of Us" (2003 release). There is a lot of music, a lot of musicians and a lot of arrangers to entertain you.
Walt contributes much of his success to his amazing peers for which he has the highest praise and to his exceptionally devoted and faithful fans.