Karen is a trumpet player and founding member of Pentagogical Brass. She was born in McKeesport, PA, and lived there until graduating from college.  The daughter of a music educator, Karen began playing violin at the age of four, and anxiously awaited the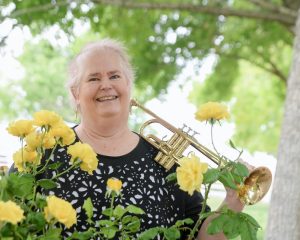 arrival of her permanent front teeth so she could begin trumpet at the age of seven.  Her first trumpet instructor was her father, Ron.  Five years later, she began taking private lessons with Duquesne University Professor, Eddie Shiner, with whom she studied until his retirement during her freshman year of college.  At this point, Karen was offered a band scholarship at Arizona State University, which she accepted.  During her pursuit of her Trumpet performance degree, she studied with Professor David Hickman.  Upon graduation, Karen moved to Las Vegas with the intention of playing in one of the show bands on the famous Strip.  Unfortunately, within a few years of her move, most of the live show bands disappeared from the Strip as casino corporations switched to taped music to increase their profits.
During the late 1980s and early 1990s, Karen had a "Kicks Band" that played weekly at the Musicians' Union Hall, as well as the occasional gig on the Strip.  She truly enjoyed her time as a big band leader, and misses it even today.  Since the Musicians' Union no longer owns a venue large enough for a big band, Karen decided to start a brass quintet in late 2011, which she is able to rehearse in her living room.  In 2013, after playing a few community events, the quintet decided to go professional, and took on the name, Pentagogical Brass.
Ms. Polak is retired educator from the Clark County School District where she taught music and computers for 30 years.  She enjoys spending time with her mom, friends, and cats.  Her hobbies include: Facebook, swimming, cooking, reading, trivia, penny slots, traveling, and studying Colonial American History.
In addition to performing with the quintet, Ms. Polak also performs solos, most frequently for weddings and church services.  Here are a few audio clips on her performing.  If interested in hiring Karen for an event, she can be contacted by calling 702-277-1362 or sending an e-mail to Pentagogical@aol.com.